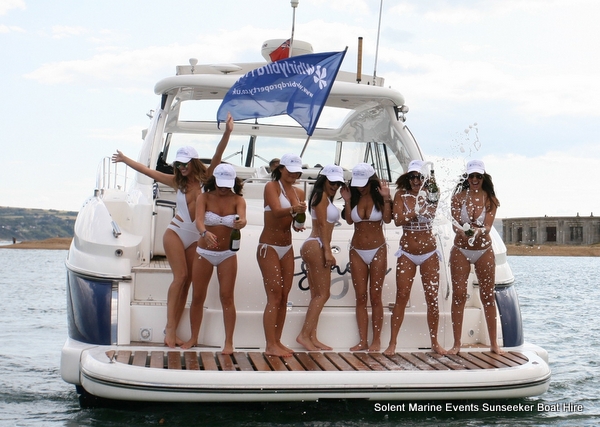 For great corporate events contact Solent Marine Events who supply Sunseeker Boat Hire  and RIB's with Professional Yacht Crew.  We provide corporate marine events for up to 300 people.  Our crew are experienced, attentive and friendly with positive attitudes and high standards of professionalism.  Solent Marine Events have excellent client feedback and a great reputation.   Our Sunseeker Yachts are glamorous beautiful and stylish with spacious accommodation above and below deck and are often used for film sets and professional model shoots. Click here to take a look inside our Sunseeker Boats. (Images courtesy of Samantha Bond Models, Mode Models, Whirleybird Property and Event Photo)
Our Sunseeker Boats are ideal for Film,Video,TV and Photo Shoots.  Large and spacious with Sunseeker Boat Hire  and RIB's with Professional Yacht Crew.   Our Sunseeker Yachts are glamorous beautiful and stylish with spacious accommodation above and below deck and are often used for film sets and professional model shoots. Click here to take a look inside our Sunseeker Boats. (Images courtesy of Samantha Bond Models, Mode Models, Whirleybird Property and Event Photo)
Solent Marine Events supply Sunseeker Boat Hire for Private Birthday Parties and Corporate Events.  We operate from Lymington and Southampton, Hampshire and throughout The Solent and Isle of Wight. Our luxury Sunseeker Boats can carry up to 12 passengers and for larger parties we provide several Sunseeker Motor Yachts and or RIBs .  Solent Marine Events are one of the few owner operators in The Solent and we are flexible, easy to deal with and offer reasonable prices.  We offer a fantastic experience because we have excellent crew with exceptional social skills and a fine selection of luxury Sunseeker boats for hire.
Solent Marine Events supply fantastic Sunseeker Boats ideal for birthday parties for up to 12 family and friends.  50th Birthday parties are the most popular and an exclusive day out on a luxury Sunseeker boat is something all the family and friends can enjoy.  Anchor in Alun Bay Isle of Wight for afternoon tea and lunch at Salty's in Yarmouth for a perfect day.
Sunseeker Boat Hire with Solent Marine Events
Solent Marine Events supply Sunseeker Boats for Glamorous Corporate Events, Film,Video,TV,Photo Shoots and Private Parties. We also supply sailing yachts and RIBS.
Contact Solent Marine Events call 0845 689 9887.