Corporate Sailing Events Team Building
exciting water based yachting events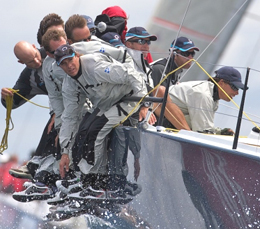 22nd January 2012
Corporate Sailing Events Team Building
Corporate Sailing Events Team Building. Increasingly we live in a virtual world, drones, pilotless planes, military operations initiated and controlled from distant locations.  Today's business models are no different with email, video conference, webcasts, voice and text.  Teamwork and face to face team communication is slowly being eroded in most corporations.  Consequently team development and team building activities are becoming essential in order to establish and maintain a high performance cohesive team.  In many organisations the key assets are people, the human capital which requires constant motivation, recognition and development in order to effectively compete in today's global business markets.  Getting to meet your colleagues, spend time with them and take part in common activities one could argue is essential in order to develop mutual respect, understanding and enhance communication and business performance.  Teambuilding is not limited to employees important clients, customers and business partners  may also benefit.
Sailing and yacht racing in The Solent is without doubt a perfect example of motivated team work where team communication can be silent and almost telepathic.  Solent Marine Events have more than 30 years experience in Solent Yacht Racing and Solent Sailing Events, team building and team development.  Sailing in The Solent with Solent Marine Events can be challenging, braving The Solent elements, working as a team in unfamiliar surroundings, driven by a common goal and purpose.  Solent Marine Events staff are qualified marine professionals who have the necessary skills and experience to develop your corporate teams and provide a Solent Sailing Experience that will enhance communication with clients, customers and guests.
Be the best, feel good and be part of a winning team.  Don't leave it to chance, contact Solent Marine Events today, the corporate team building specialists, for information on any aspect of corporate team formation, corporate team development and corporate team building.
Solent Marine Events - Corporate Events Team Building and Corporate Hospitality
Solent Marine Events are a leading corporate events management company. We specialise in Sunseeker Motor Yachts for company days and water based team building activities and also supply sailing yachts and RIBS. Based in The New Forest, Hampshire we provide a complete managed events service.
Contact Solent Marine Events on 0845 689 9887 or Request a Quote today.