Cowes Week Company Events
a very exciting day spent on the water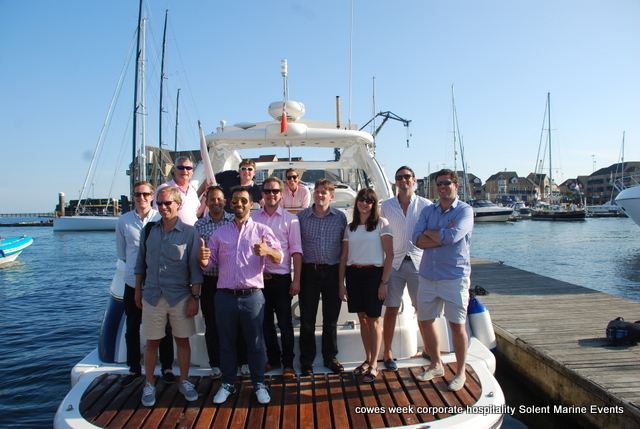 27th August 2011
Cowes Week Company Events
Cowes Week Company Events. Cowes Week was special this year for Solent Marine Events. A major corporate company in London commissioned us to run a Cowes Week Corporate Hospitality event for 66 guests. Solent Marine Events deployed a fleet of luxury motor yachts and in this particular Cowes Week Company Event the client had requested a matching fleet of Sunseeker Motor Yachts.
Sleek and stylish the Sunseeker Yachts look really impressive when they arrived in Cowes. Solent Marine Events provided 2 identical 61ft Sunseeker Predators, 2 Sunseeker Camargues, 1 Sunseeker Superhawk and in addition 2 RIBs. The company day started in Lymington with a champagne breakfast at the bistro and an events brief from the Solent Marine Events Dedicated Cowes Week Events Manager.
After an excellent breakfast (thanks Rob!), the guests were met by their hostesses and escorted to the waiting Sunseeker Yachts and RIBs where the individual captains gave their safety brief's. The 2 identical 61ft Sunseeker Predators left the marina first followed by the other Sunseeker Yachts and RIBs, destination Cowes, Isle of Wight to take part in the world famous Cowes Week Regatta.
Cruising at 35 mph is absolutely exhilarating on the high performance Sunseeker Yachts, hard tops open they are extremely comfortable on board and our guests mingled freely in the spacious cockpits. Approaching Cowes we slowed down as we entered the racing fleet. The highly skilled Solent Marine Events Captains following the lead racing yachts from a distance of only a few feet away. "…As long as you don't spoil their wind or cause any wash we find they are very comfortable with this approach" the Captain said.
Solent Marine Events only employ qualified and experienced MCA certified crew and its at time like Cowes Week that their skills are really proven. Our guests were amazed "its like racing in Cowes Week in the Cowes Week Regatta without a yacht…" one remarked and this is probably an accurate description. You can see, hear and feel the tensions and activities on board the Cowes Week Racing Fleet from the comfort of a luxury Sunseeker Motor Yacht.
Later we quit the fleet and entered Cowes. Cowes is truly amazing during Cowes Week. The numerous Cowes Week tents especially erected along Cowes sea front for Cowes Week are impressive. We transferred our guests ashore by RIBs to the Island Sailing Club where they had lunch and a magnificent view of Cowes and Cowes Week racing from their vantage point. Solent Marine Events specialise in Cowes Week corporate hospitality and company events and this year was another fantastic Cowes Week Sunseeker Experience.
Solent Marine Events - Corporate Events Team Building and Corporate Hospitality
Solent Marine Events are a leading corporate events management company. We specialise in Sunseeker Motor Yachts for company days and water based team building activities and also supply sailing yachts and RIBS. Based in The New Forest, Hampshire we provide a complete managed events service.
Contact Solent Marine Events on 0845 689 9887 or Request a Quote today.