Yarmouth Old Gaffers Festival Sunseeker Charter
Sunseeker Motor Yacht Charters 26th May 2012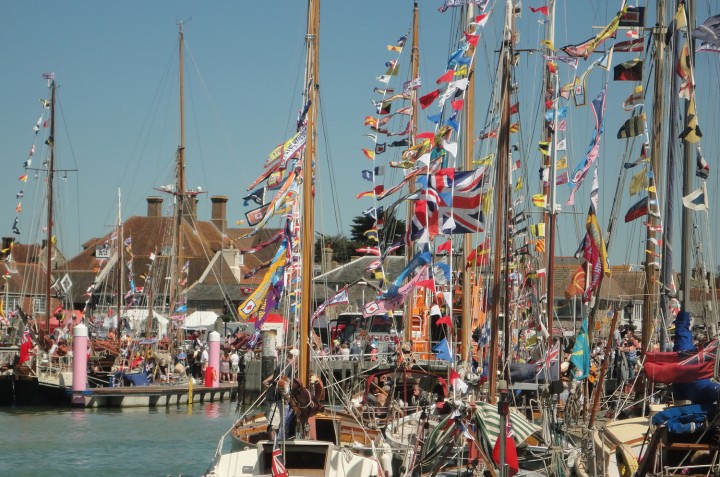 28th May 2012
Yarmouth Gaffers Festival
Yarmouth Gaffers Festival.Charter a luxury Sunseeker motor yacht and watch the old gaffers festival in style. Saturday was a beautiful sunny day and Solent Marine Events were delighted to host a Luxury Sunseeker Yacht Charter on a fleet of Luxury Sunseeker Motor Yachts.  Guests arrived by limousine at Lymington Yacht Haven, Hampshire and after a fine breakfast and champagne reception, they joined the waiting fleet of Luxury Sunseeker Motor Yachts.  Soon the Sunseekers were cruising the crystal clear waters of The Solent at speeds of up to 40mph.
A visit to Cowes, Isle of Wight was interesting as guests could see at first hand the preparations already underway for the world famous Cowes Week Sailing Regatta.  After a brief stop the fleet departed for Yarmouth, Isle of Wight to visit the famous Yarmouth Old Gaffers festival with more than 100 traditional sailing vessels taking part.
Guests enjoyed a great lunch in the carnival like atmosphere of this picturesque fishing village.  Later a high speed cruise to The Needles and finally returning to Lymington.  An excellent day to remember in The Solent with Solent Marine Events.
Solent Marine Events - Corporate Events Team Building and Corporate Hospitality
Solent Marine Events are a leading corporate events management company. We specialise in Sunseeker Motor Yachts for company days and water based team building activities and also supply sailing yachts and RIBS. Based in The New Forest, Hampshire we provide a complete managed events service.
Contact Solent Marine Events on 0845 689 9887 or Request a Quote today.