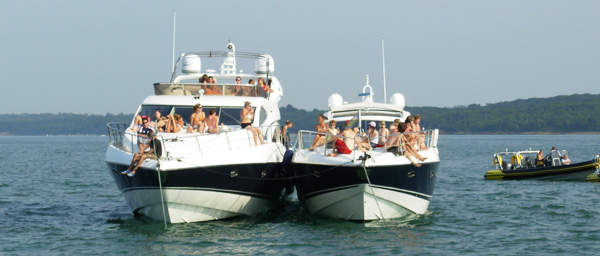 Solent Marine Events provide memorable corporate hospitality events, company days and bespoke corporate packages. Our bespoke corporate packages consist of limitless permutations designed to stretch your imagination. Based in The Solent within commuting distance from London we offer luxury motor yachts, luxury sailing yachts, Ribs and fantastic venues ashore which together provide the ingredients for the ultimate in corporate entertainment and corporate hospitality events.
Truely Bespoke Corporate Hospitality
Our bespoke packages are designed around you, the options are discussed and agreed and our professional events team plan the day around your requirements. Land, Sea and Air corporate events, exclusive dining by the sea, riverside barbeques, swimming, skiing and water sports are just a few of the choices available from Solent Marine Events.
Numbers are effectively unrestricted and we have the necessary resources to provide large corporate events in The Solent, Hampshire.
Corporate Hospitality and Team Building with Solent Marine Events
Whatever your requirements for corporate hospitality or company team building events, Solent Marine Events will provide a memorable occasion.
Contact Solent Marine Events on 0845 689 9887 or Request a Quote today.