Insurance Industry Company Event
a flotilla of boats on the water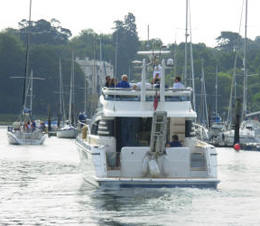 28th June 2010
Insurance Industry Company Event
Insurance Industry Company Event. The day started at 0700hrs in Port Solent and our professional captain and hostess had to deliver a large Sunseeker Yacht to Swanick Marina at the top of the Hamble River for a luxury motor yacht charter.
Our 62 guests preferred Swanwick Marina due to its close proximity to the M27 and Southampton. The party consisted of a number of insurance industry staff with their key clients and this corporate event was all about business development and client hospitality.
Solent Marine Events managed the entire corporate event and provided a high speed Pascoe RIB, 2 Scorpion RIBS, a 48ft Oyster centre cockpit sailing yacht, a 61foot Sunseeker Predator and a 52 foot Fairline Squadron.
After a pontoon party and breakfast the boats left for Cowes in the Isle of Wight, where the Folly Inn was booked for lunch.
The RIB Charters, Sunseeker Charters and Fairline Charters boats toured the Solent and guests had a the opportunity to take in the wonderful Solent scenery. The RIBS transferred passengers at sea and all guests had the chance to experience the different power boats. Unfortunately for the Oyster Sailing Yacht Charter the wind and tide was against them and they only made to the Folly Inn just in time for lunch.
A fantastic lunch was had by all, guests again swapped places across the charter fleet and we set off for a Solent Cruise back to Swanwick Marina. This was a fantastic corporate combination day and with a variety of RIB charters, Sunseeker Charters, Fairline Charters and Sailing Yacht Charters our guests had the unique opportunity to experience power boats, sailing yachts and luxury motor yachts all in a single company day.
Solent Marine Events - Corporate Events Team Building and Corporate Hospitality
Solent Marine Events are a leading corporate events management company. We specialise in Sunseeker Motor Yachts for company days and water based team building activities and also supply sailing yachts and RIBS. Based in The New Forest, Hampshire we provide a complete managed events service.
Contact Solent Marine Events on 0845 689 9887 or Request a Quote today.