Girls Night Out Luxury Yacht
private party on a sunseeker predator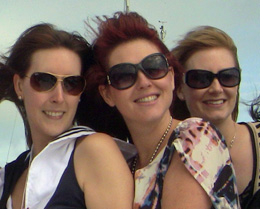 18th February 2011
Girls Night Out Luxury Yacht
Girls Night Out Luxury Yacht. The booking was made in early February 2011 by Stephanie who was organising an exclusive girls night out for her best friend Amanda, the bride to be. Amanda was due to be married late October 2011 and the group of 12 girls wanted an exclusive private charter on a Luxury Sunseeker Motor Yacht for a no expense spared executive weekend package jet set style. Not a Hen Night, Hen Party or Hen Do but an upmarket, exclusive and sophisticated girl's night out on a luxury Sunseeker motor yacht.
The ladies travelled from London by private luxury coach organised by the dedicated Solent Marine Events events manager to a luxury hotel in the New Forest. A luxury Spa and dinner followed as the ladies eagerly anticipated the next day and their luxury Sunseeker Solent Party Cruise. 10am the next day the sleek and powerful, impeccably presented, Solent Marine Events Bentley Continental GT pulled up in the drive of the 5 star luxury New Forest hotel to transport Amanda and Stephanie, in the unrivalled craftsmanship that only Bentley Motors and Sunseeker Yachts can provide, to the waiting Sunseeker Motor Yacht in Lymington Marina, Lymington, Hampshire.
Champagne, music, exclusive dining and a private party followed. An expensive and exclusive weekend private charter package on a Luxury Sunseeker Motor Yacht from Solent Marine Events – when only the best will do!
Solent Marine Events - Private Yacht Charters for Parties and Special Occasions
Solent Marine Events are a leading events management company. We specialise in Sunseeker Motor Yachts for private charters and also supply sailing yachts and RIBS for larger parties and events. We provide a complete end to end solution for your private parties and yacht charters.
Contact Solent Marine Events on 0845 689 9887 or Request a Quote today.