Ladies Day Sunseeker Charter
Cowes to Southampton Sunseeker Party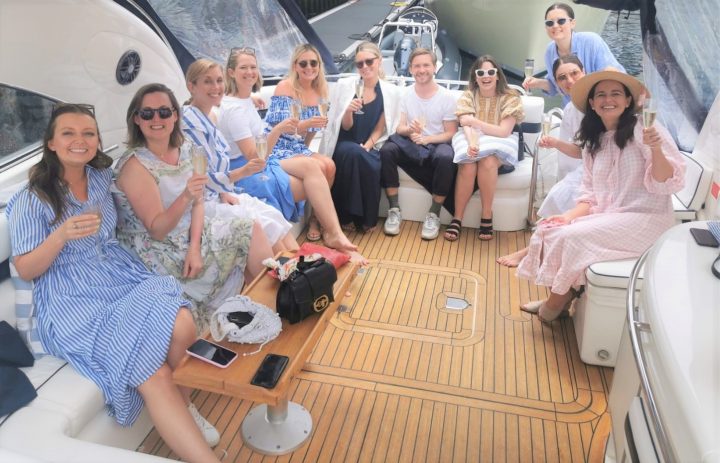 4th July 2021
Ladies Day Sunseeker Charter
Ladies day Sunseeker charter. Our ladies joined the waiting Sunseeker in Cowes Isle of Wight at Trinity Wharf close to the Royal Yacht Squadron. Dressed elegantly they were excited to join a beautiful Sunseeker Predator for a day out in The Solent. Today was the Round the Island Race with around 5000 competitors. The Sunseeker slipped its moorings and departed Cowes, Isle of Wight and headed straight to the finishing line just in time to witness the winner of the race cross the line. The next stop was Osborne Bay and the Sunseeker anchored off Osborne House in full view of Queen Victoria's favourite palace. Anchored in around 5m the Sunseeker Predator lay quietly at anchor and our guests enjoyed ice cool champagne which they had brought along. The wedding is in 2 weeks time and the ladies had a wonderful day on board the Sunseeker Motor Yacht.
Cowes to Southampton Sunseeker Party
Cowes to Southampton Sunseeker Party. The Sunseeker Party itinerary started in Cowes and the destination was Southampton, Ocean Village Marina. Our ladies had reserved lunch at the wonderful Blue Jasmine restaurant. With military precision the luxury Sunseeker Predator Charter Yacht docked in Ocean Village at precisely 1252hrs and the Solent Marine Events Captain escorted the ladies to the Blue Jasmine restaurant for a their 1300 reservation. After a lunch of the highest Asian Fusion quality the ladies rejoined the waiting Sunseeker with friends for afternoon tea and exchanging gifts with the lucky bride to be.
Sunseeker Charters 2021
Sunseeker charters 2021. A day out on board our luxury Sunseeker Motor Yachts is fantastic. Solent Marine Events operate throughout the Solent and our guests have a wonderful time. Often our Captain is asked about the job and if there are any particular difficulties associated with it! his honest answer is always the same "the hardest part of the job is getting our guests to disembark at the end of the day as they love being on a Sunseeker Predator so much…"