Pub in The Park Marlow Tom Kerridge
Sunseeker Predator Yacht Charter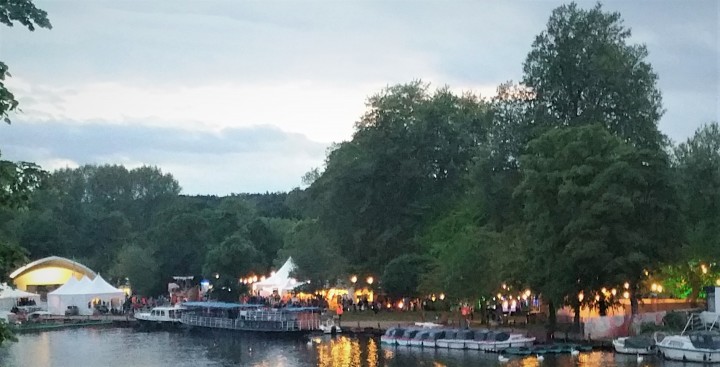 21st May 2017
Pub in The Park Marlow Tom Kerridge
Pub in the park Marlow Tom Kerridge.  Great British foods, Great live music and Great British Sunseeker Yachts on the River Thames.  Solent Marine Events were pleased to organise a luxury Sunseeker Predator Motor Yacht charter for this event on the banks of the River Thames in Marlow, Buckinghamshire.  Our guests love live music and chartered the vessel to use as a luxury floating apartment.  The guests wanted to combine business with pleasure and the spacious Sunseeker Motor Yacht not only provided the ideal accommodation on the river but had extensive storage space on board for our guests bulky and valuable equipment.  The highly manouverable Sunseeker simply glided alongside the banks of the River Thames to allow our guests and equipment ashore. Lunch was taken at Atul's place at The Compleat Angler and later that evening Atul Kochhar's cuisine was available at The Pub in The Park.  The Sunseeker Predator Motor Yacht is air conditioned and fully heated with a massive electric sunroof, open air boating is available at the touch of a button.  The weather was cool with frequent showers but the cockpit heating provided a very comfortable environment and our guests benefited from the ideal vantage spot.
Sunseeker Predator Yacht Charter River Thames
The River Thames is a popular charter location.  Solent Marine Events have been navigating luxury vessels on the Thames for many years and have an in depth knowledge of the Thames and its inherent beauty.  Sunseeker Motor Yachts are spacious, comfortable, manoeuverable and very fast.They make the ideal luxury charter yacht for guests wishing to explore London from the Thames river.Avoid the traffic, hustle and bustle and slip by unnoticed on a sleek and beautiful Sunseeker Motor Yacht quietly navigating the estuaries, sights and sounds that only the River Thames offers including London Eye Pier and Westminster Pier.  Further east and we moored the fantastic Sunseeker at Cookham, our guests love Indian cuisine and a visit to Maliks was deemed essential.
London to Lymington Sunseeker Charters
Solent Marine Events are based in Lymington, Hampshire and are within easy reach of London by road, rail, and air.Often guests fly down by helicopter but the train only takes around 90 minutes from London Waterloo.Solent Marine Events provide fully organised London to Lymington Sunseeker Charters and handle all travel arrangements and logistics if required.  Solent Marine Events operate both business to business (B2B) and business to consumer (B2C) business models.We therefore offer the best Sunseeker Motor Yachts at the best prices as there are no intermediaries and therefore savings in potential commissions are passed directly onto our customers.No event is too big or too small and our Sunseeker Charters have ranged from 2 guests on a romantic Sunseeker Cruise to 180 people on the water for a Sunseeker Experience Day.