Sunseeker Glamour Model Shoot 2015
Solent Marine Events Private Charter and Corporate Events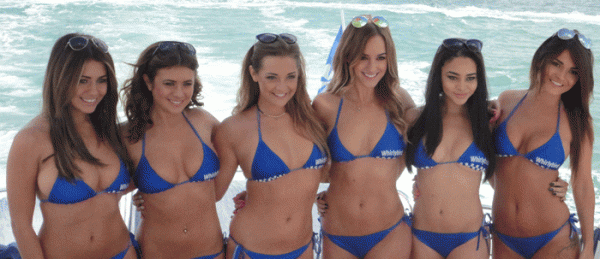 8th February 2015
Sunseeker Glamour Model Shoot 2015
Sunseeker Glamour Model Shoot 2015. 2014 was an excellent year for Solent Marine Events with numerous corporate charters and private charters held throughout 2014.  Our most popular private charter is a Birthday Party on a Sunseeker Yacht.  Our largest corporate marine event saw 180 guests on the water for a very exciting "speed on the water experience"  Solent Marine Events planned and managed this event from our base at Ocean Village Marina Southampton and supplied 14 vessels including 2 Sunseeker Predator Motor Yachts.  This event was possibly the largest corporate marine event held in The Solent and Southampton during 2014.
Solent Marine Events hosted a SUN Page 3 Glamour Model Shoot with 7 glamour models, photographers and supporting staff on board our Sunseeker Predator motor yachts and support craft. Solent Marine Events are holding another glamour model shoot and are already booked for the Sunseeker Glamour Model Shoot 2015 with 12 glamour models and several Sunseeker luxury motor yachts.
Solent Marine Events provide luxury Sunseeker yachts for private charter and corporate events. Our largest event to date catered for 180 guests with 30 Solent Marine Events support staff on the water and ashore. Our smallest event was a luxury private yacht charter for a couple who wanted the ultimate experience for a special occasion. For a professional well managed marine event regardless of size contact Solent Marine Events who have a proven track record in excellent marine events.