The Hut Restaurant Sunseeker Charter
Birthday Party on a Sunseeker Yacht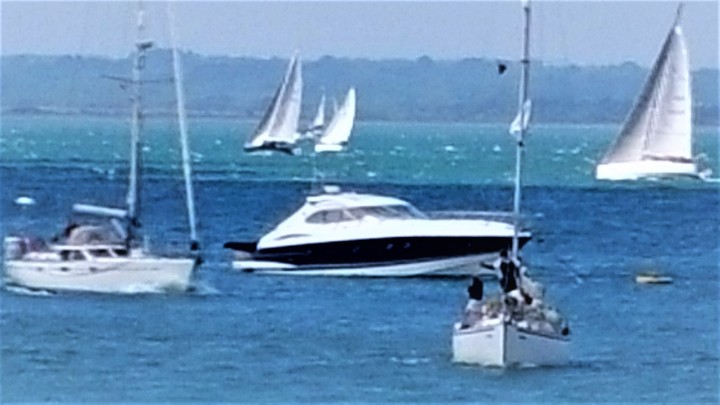 16th May 2017
A beautiful day in The Solent and this was a special occasion for a group of 4 families celebrating a special birthday on a Sunseeker Motor Yacht.  Arriving from Chewton Glen they were greeted by Solent Marine Events and escorted down to the waiting Sunseeker Predator Motor Yacht.  Destination – The Hut at Colwell Bay, Isle of Wight.  The Hut is a well known local haunt and popular with visitors who love to arrive by boat.  Anchored off in Colwell Bay our guests were picked up in small RIB's and transported ashore by the crew from The Hut.  After lunch at The Hut, Colwell Bay, Isle of Wight the Sunseeker Yacht proceeded for a sunset cruise to The Needles.
Anchoring in Alun Bay beside the multicoloured sandy cliffs that reflected the suns light producing a beautiful array of colours which shone along the sleek hull of the Sunseeker Predator.  Our guests enjoyed afternoon tea watching the golden sun sink slowly into the azure waters of The Solent.
Later the powerful Sunseeker yacht started its engines and departed Alun Bay for a very fast cruise to Yarmouth, Isle of Wight.  Achieving speeds of around 45mph the Sunseeker soon arrived in Yarmouth and moored in this beautiful English fishing harbour.  Our guests were picked up by limousine and taken to the ancient George Hotel which was the desired venue for a fantastic dinner on the private lawn overlooking the beach.  After a Michelin star dinner the sleek Sunseeker Yacht departed Yarmouth, destination – Lymington Yacht Haven for the final leg of a great day and back to Chewton Glen.
This was a fantastic day and our guests enjoyed a great birthday celebration with their families on board a luxury Sunseeker Predator Motor Yacht.  Cruising The Solent waters on a luxury Sunseeker Yacht from Lymington, Hampshire was easy.  Our guests had travelled from London by train and car and remarked upon the ease of reaching the beautiful New Forest.  A pleasant change from the hustle and bustle of air travel.
Solent Marine Events - Corporate Events Team Building and Corporate Hospitality
Solent Marine Events are a leading corporate events management company. We specialise in Sunseeker Motor Yachts for company days and water based team building activities and also supply sailing yachts and RIBS. Based in The New Forest, Hampshire we provide a complete managed events service.
Contact Solent Marine Events on 0845 689 9887 or Request a Quote today.