Corporate Team Building Managers
exciting water based training activities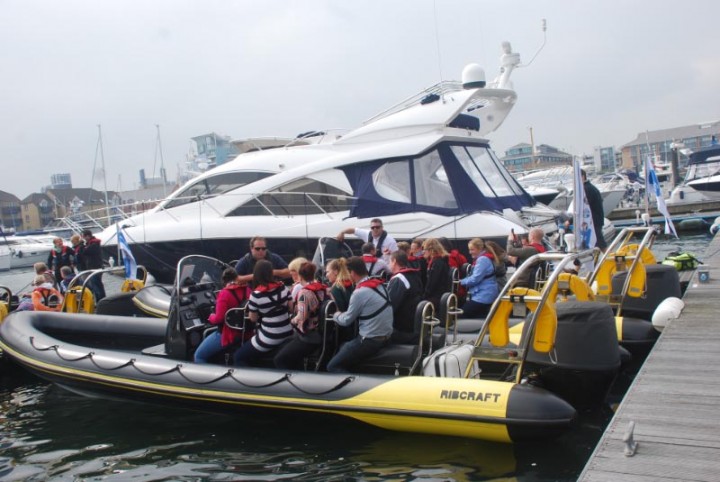 18th June 2011
Corporate Team Building Managers
Corporate Team Building Managers. Solent Marine Events were delighted to be awarded this project. Our client is a major training organisation in London and the objective was to undertake a team building activity in the Solent for 35 of their potential managers on the water as part of our leadership development and training programme.
Two luxury Sunseeker Predators, identical in all respects and 2 fast scorpion RIBs were deployed and the company day started from Lymington, Hampshire at approximately 1000hrs. The day began with a briefing from our dedicated events manager who explained the tasks and objectives for the day and the prize giving procedures at dinner later that evening.
The teams were allocated to their waiting boats and each captain gave their individual safety briefs, it was then off into the Western Solent. At our clients request the exact details of this bespoke Solent Marine Events Leadership and Development Programme must remain confidential, however we can say that it is based upon our extensive military backgrounds and proven leadership experience.
The day was an outstanding success and Solent Marine Events have now been retained to provide an extensive programme for 2012. A beautiful day with beautiful boats and a great team is all it takes to provide a memorable experience on the water. The Solent Marine Events leadership and development programme is available to corporate clients. The programme is based upon sound leadership principles and experience and is customised to suit our individual clients.
Solent Marine Events - Corporate Events Team Building and Corporate Hospitality
Solent Marine Events are a leading corporate events management company. We specialise in Sunseeker Motor Yachts for company days and water based team building activities and also supply sailing yachts and RIBS. Based in The New Forest, Hampshire we provide a complete managed events service.
Contact Solent Marine Events on 0845 689 9887 or Request a Quote today.