Corporate Sailing Regattas on Matched Racing Yachts
Competitive Sailing for Team building Team Bonding and Client Hospitality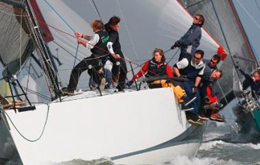 25th to 27th June 2012
The Coutts Quarter Ton Cup is awarded at the Coutts Sailing Regatta, a series of nine races over a three day period.  Based in Cowes, Isle of Wight this event is hosted by the Royal Corinthian Yacht Club in Cowes.  A Corporate Sailing Regatta Event is excellent for client hospitality, rewarding team members and teambuilding.  Charter our matched high performance racing yachts and challenge your clients and colleagues.
Solent Marine Events have a fleet of high performance, matched sailing yachts in fantastic condition.  No sailing experience is necessary as each yacht is professionally crewed and you can actively participate or simply relax and enjoy a great day on the water.  Our yachts are available throughout the year and may be booked for one, two or three day programmes. Alternatively join one of our superb luxury motor yachts and spectate at the Coutts Sailing Regatta in style from the comfort and prestige of a luxury Sunseeker Motor Yacht.
Contact Solent Marine Events  today for information and booking details.
Solent Marine Events - Sailing for Corporate Hospitality and Teambuilding
Solent Marine Events are a leading corporate events management and corporate hospitality company. We specialise in water based events and provide matched sailing yachts for racing and luxury Sunseeker Motor Yachts for spectators. We offer an extensive range of Powerboats, Motor Yachts, RIBS and Sailing Yachts throughout the year.
Contact Solent Marine Events on 0845 689 9887 or Request a Quote today.