Sunseeker Charter Corporate Team Building
Sunseeker Yacht Hire Client Development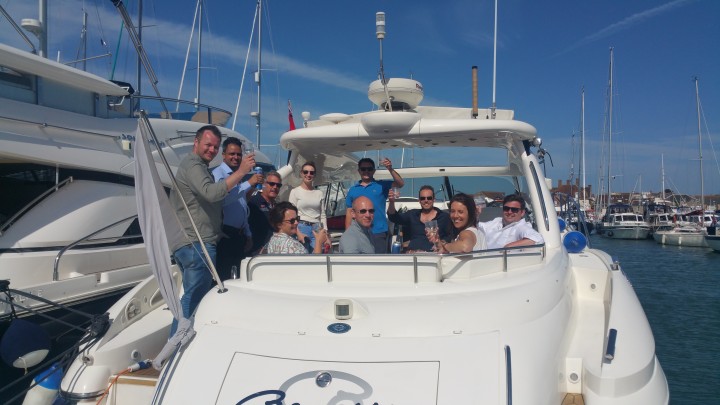 17th June 2017
Sunseeker Charter Corporate Team Building
Sunseeker Charter Corporate Team Building in The Solent June 2017.Our clients travelled from all over the world to join Solent Marine Events for a corporate team building event and client development programme.From St Petersburg,Florida,Hong Kong,Germany,Sweden,Ireland and Stranraer guests arrived in Lymington,Hampshire on the edge of the New Forest.Solent Marine Events provided a beautiful Sunseeker Predator, Fairline Squadron 58 and a fast rib for 32 guests to enjoy an exhilarating day on the water.The Sunseeker was the lead vessel and a special tour of The Solent began with a visit to Salty's Yarmouth, then Colwell Bay to The Hut with dinner at The Coast in Cowes.
Sunseeker Yacht Hire Client Development
Sunseeker yacht hire client development is a regular charter request at Solent Marine Events.Our guests normally hold a business meeting at a local hotel, frequently the Chewton Glen in the morning and then after a successful corporate conference its down to Lymington Yacht Haven, the award winning marina,to join the awaiting Sunseeker Luxury Motor Yachts.Quickly formality is dispensed with and all guests relax and enjoy a great day out in The Solent on a Luxury Sunseeker Motor Yacht.Great food,great boats and great company make Solent Marine Events special and the preferred choice of major corporations.
Sunseeker Yacht Charter Lymington
Sunseeker yacht charter Lymington is provided by Solent Marine Events who provide luxury Sunseeker Motor Yachts for corporate events and private yacht hire for birthdays.