Surprise 40th Birthday Party
Sunseeker Birthday Charter to Yarmouth Isle of Wight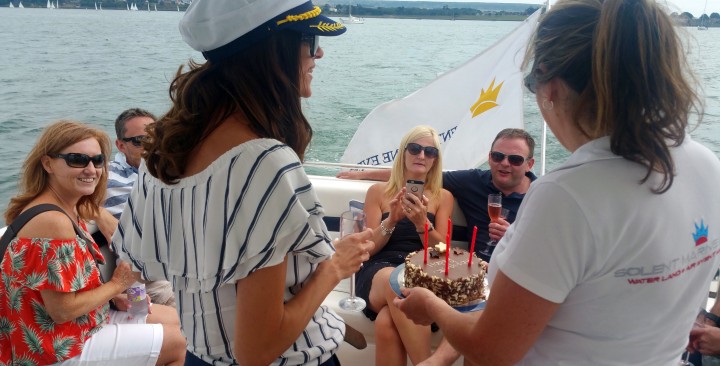 4th August 2016
Surprise 40th Birthday Party for Sarah and her friends and family.  Sarah had a really special 40th Birthday celebration on board a Luxury Sunseeker Motor Yacht provided by Solent Marine Events.  The group of family and friends were met by our friendly crew at Lymington Yacht Haven and escorted down to the waiting Sunseeker Yacht.  After the Captains safety brief it was off into the beautiful Solent for a fantastic cruise to The Needles.  The Captain skillfully navigated the vessel close to The Needles for a special photo opportunity for the guests.
Next stop was The Hut in Colwell Bay the Sunseeker anchored and the guests were taken ashore by boat for drinks at The Hut, organised by our events team as part of our Sunseeker Birthday Party Package deal.  After a great lunch in Yarmouth Isle of Wight at Salty's Restaurant  with our guests safely back on board the Sunseeker proceeded to Totland Bay to visit the famous Waterfront Bar and Restaurant Totland Bay Isle of Wight for afternoon tea.
Finally it was back to Lymington and our guests boarded a luxury coach to take them back to Chewton Glen Hotel.
Solent Marine Events organised the entire day and would like to extend their thanks to our partners who provided great sevice and made this day a special and memorable 40th Birthday Party celebration on a luxury Sunseeker Motor Yacht