Sunseeker 155 Yacht
Sunseeker Luxury Yachts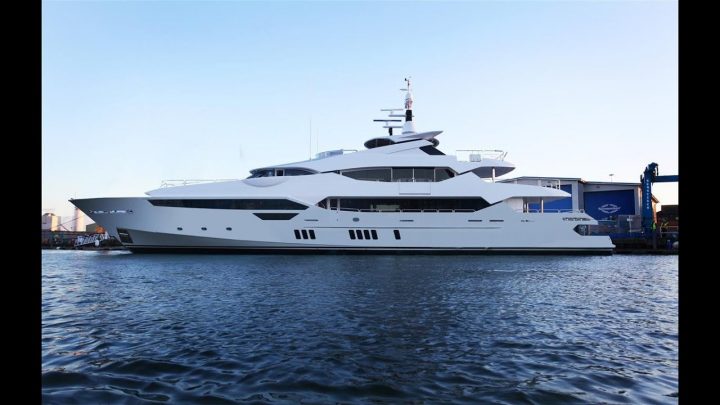 21st April 2020
Sunseeker 155 Yacht
Sunseeker 155 Yacht. Sunseeker announces the sale of a second Sunseeker 155 luxury motor yacht which is due for completion later this year. The vessel was sold at the Singapore international boat show and is believed to be heading for Chinese waters. A key feature is the unique Sunseeker Yacht individual personalisation programme which enables prospective owners and their Captains to create individual interiors to match their requirements. The Sunseeker 155 is currently the largest vessel produced by the Poole UK based yacht company, however the new Sunseeker 161 yacht has been announced. The Sunseeker 155 has a light displacement of around 300 tons and carries 60 tons of marine grade diesel fuel providing a useful 4000 range at a cruising speed of 10 knots. Maximum speed is 21 knots which is good for a vessel of this stature. Fresh water capacity is 3 tons however the vessel is equipped with 2 dual cycle capillary induction water makers which provide plenty of fresh water. It's interesting because ask any 1st officer and they much prefer washing down the vessel with water from the water makers as it is calcium free, does not leave deposits when dry and makes life much easier for the crew.
Sunseeker luxury yachts. The accommodation on board the luxury Sunseeker 155 yacht is superb and the standard layout accommodates up to 12 guests and 8 crew each with their own cabin. The interior is light and airy thanks to the huge windows which stretch from just above the waterline to the uppermost continuous deck or freeboard deck. Soft furnishings, equipment, electronic systems, are state of the art as you would expect from the renowned Sunseeker Yard in Poole. We particularly like the use of advanced hydraulic systems which enable beautiful glass bulkheads to disappear at the touch of a button, balconies to be created by remote control and a sky lounge launched to take in the constellations seamlessly and without effort.
Solent Marine Events
Solent Marine Events specialise in Sunseeker yacht charters in Lymington and Southampton UK and also provide bespoke yacht services throughout Europe to discerning Sunseeker owners.