Sunseeker 65 Sport Yacht
Sunseeker Performance Yachts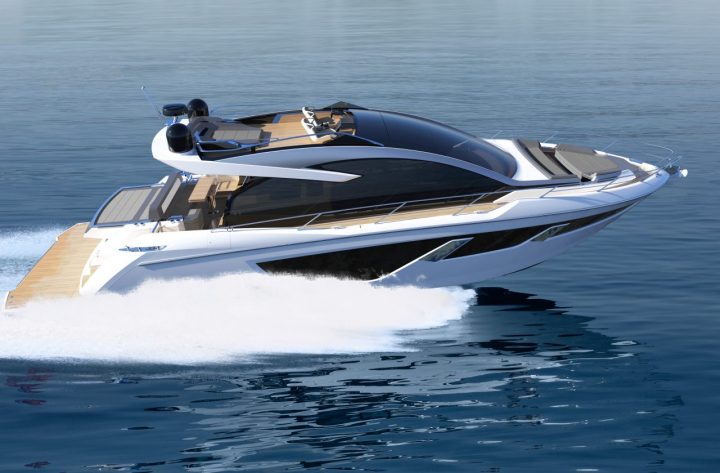 24th March 2020
Sunseeker 65 Sport Yacht Review
Sunseeker 65 Sport Yacht.  The all new Sunseeker 65 Sport yacht is due to be launched later this year. A brand-new construction and futuristic design in tinted glass, stainless steel, teak, carbon fibre and GRP make this new Sunseeker unique. Normally only available in the Sunseeker Superyacht Division the renowned Sunseeker Yacht Individualisation Programme is being offered on the new Sunseeker 65. There are 2 exciting flybridge layouts on offer from Sunseeker International Poole UK a sport 65 special flybridge layout with twin cockpit chairs and a sun lounge astern or the all new Sunseeker "Sky Helm" concept. Imagine easing yourself into the Ferrari 458 with deep bolstered figure-hugging seats, padded centre console and cool retro dashboard instrumentation there you have it the new Sunseeker 65 Sport sky helm. Once again, the Sunseeker design team have excelled in futuristic excellence.
Sunseeker Performance Yachts
Sunseeker Performance Yachts. A sleek glass encased high performance Sunseeker yacht with accommodation for six guests in 3 cabins. The large full beam aft cabin is reminiscent of the Sunseeker greats, such as the Sunseeker Predator, with a light and airy feel and en-suite facilities.  The Sunseeker 65 sport has a tender garage and a hydraulic bathing platform for tender launch and swimming.  The garage is optional, and the tender can be carried on the hydraulic platform and the garage space released for even more accommodation and entertainment space. We prefer the tender on the hydraulic platform option as this is an easy tender launch system that can be used when marina space is tight and in almost all berthing and mooring positions.
Solent Marine Events
Solent Marine Events specialise in Sunseeker yacht charters in the UK from Lymington and Southampton. We provide luxury Sunseeker motor yachts for corporate events and private charters including birthday parties and special occasions. We also provide Sunseeker yacht services in the UK and across Europe to discerning Sunseeker owners.