Cowes Week Corporate Hospitality Sunseeker Boat Hire
Sunseeker Yacht Charter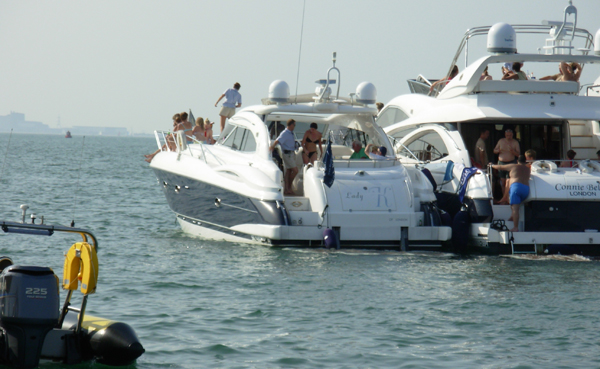 Cowes Week Corporate Hospitality Sunseeker Boat Hire
Cowes Week Corporate Hospitality Sunseeker Boat Hire. Cowes Week is the most prestigious UK yacht regatta with almost 3000 yachts taking part.  It is an attractive opportunity to host important clients and guests.  You can get close up to the action, excitement and thrills of Cowes Week yacht racing at sea and relax afterwards in the famous Cowes Week marina village with its tents, live music and entertainment shore.   Our Sunseeker motor yachts provide the perfect viewing platform.
Sunseeker luxury motor yachts are fast and furious, they can easily keep up with the sailing yachts and provide a great feel of the yacht racing during Cowes Week.Solent Marine Events know all the best places and vantage points in The Solent.Watch the racing lunch at The Hut and have a great day out on the water on a Sunseeker Motor Yacht.
Cowes Week Corporate Hospitality Sunseeker Boat Hire
To charter a Sunseeker motor yacht for Cowes Week
Contact our events team on 0845 689 9887 today.