Titanic Memorial Cruise Southampton
Titanic Memorial Cruise Departing Southampton on Luxury Motor Yachts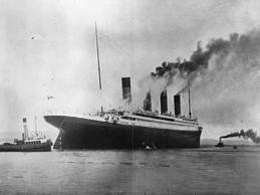 10th April 2012
The Titanic departed Southampton, Hampshire at 12.15 on 10th April 1912.  It was due to arrive in New York City on the 15th April.   Its route included stopping at Cherbourg, France to collect European passengers and then Ireland to pick up mail.  The Titanic sank at 0220 hrs on 15th April 1912, having collided with an iceberg at 11:40 on the 14th April 1912.
Solent Marine Events are offering a special Titanic Memorial Cruise, departing Southampton at 12.15 on the 10thApril 2012, exactly 100 years after the RMS Titanic's departure from Southampton.  This a unique historical occasion and Solent Marine Events offer enthusiasts and descendants the opportunity to retrace part of Titanic's initial maiden voyage down Southampton Water and The Solent.  The Solent Marine Events all inclusive Titanic 100th anniversary voyage package itinerary is set out below:
10:30

Champagne Reception and Captains Safety Brief

11:30

Depart Ocean Village Marina, Southampton

12:15

Southampton Passenger Terminal – Memorial Voyage Begins
Southampton Water
The Needles

14:15

Arrive Lymington Marina

14:30

Late Lunch in Lymington

16:15

Depart Lymington

17:30

Arrive Ocean Village Marina, Southampton
Disembark
[youtube]8wTlureUMP8[/youtube]
Solent Marine Events - Titanic Memorial Cruise Exactly 100 Years Later
Solent Marine Events are offering a Titanic Memorial Voyage departing 100 years to the minute from Southampton, England and retracing the initial route 100 years ago. Luxury Sunseeker Motor Yachts are available for Corporate and Private charters or individual tickets may be purchased for our one off special public group cruise. Hurry while spaces last.
Contact Solent Marine Events on 0845 689 9887 or Request a Quote today.