50th Birthday Parties Luxury Motor Yachts
great day out with family and friends on a Sunseeker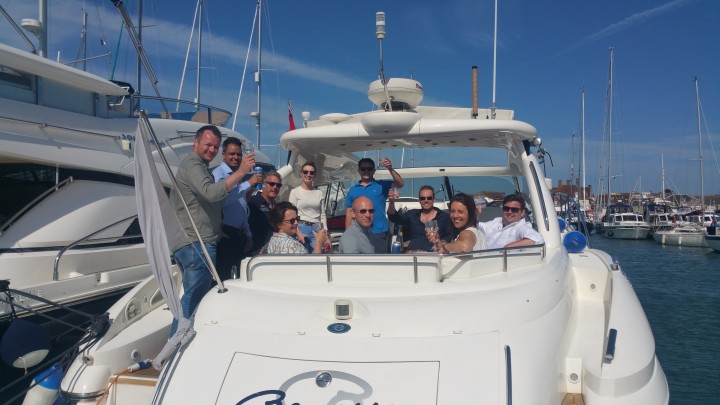 16th June 2014
50th Birthday Parties Luxury Motor Yachts
50th Birthday Parties Luxury Motor Yachts. Choosing the ideal venue for a special 50th birthday party can be difficult.  Many of our clients have chartered luxury motor yachts from Solent Marine Events as the ideal venue to celebrate with family and friends in private luxurious surroundings. Our luxury Sunseeker Motor Yachts have all the necessary on board facilities to ensure a great time and our professional crew are dedicated to ensuring the ultimate in service standards.
Solent Marine Events surprise 50th birthday parties on our motor yachts have received considerable acclaim and charter guests simply adore their time on board. Solent Marine Events are helpful and through careful event planning always ensure that your special 50th birthday party celebration goes smoothly.  There are so many venue options to choose from but few can surpass the star studded glamour of a Luxury Sunseeker Motor Yacht and the crystal clear waters of The Solent.  Each 50th birthday party yacht charter offers a unique and exciting experience and something new and completely different from all other birthday party celebrations.
Every 50th birthday party yacht charter itinerary is unique and we work with you to ensure a great day out on the water, including party destinations, recommendations on the finest restaurants, beaches and sites in The Solent.
Solent Marine Events - 50th Birthday Parties on Luxury Yachts
Solent Marine Events offer great 50th birthday parties. They have received much acclaim and guests simply adore their time on board. Celebrate in style with family and friends with Solent Marine Events.
Contact Solent Marine Events on 0845 689 9887 or Request a Quote today.