50th Birthday Party Surprise
Luxury Sunseeker Motor Yacht Charter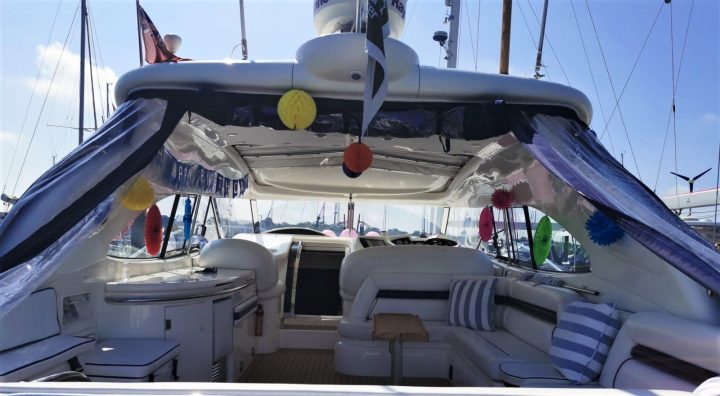 15th July 2021
50th Birthday Party Surprise
50th Birthday Sunseeker charter party surprise on a luxury Sunseeker Motor Yacht. A really nice family and group of friends chartered one of our Sunseeker Predators for a surprise 50th birthday party. The charter was arranged by the lucky fellows partner who made all the arrangements with Solent Marine Events in secret. The group joined the Sunseeker in Southampton and it was a fantastic surprise for the 50th birthday. After morning coffees and breakfast the Captains delivered his safety brief, the powerful Sunseekers diesels were started and the vessel departed for a great day out in The Solent. The destination was Cowes Isle of Wight and a berth had been reserved at Shepherds Wharf on the Medina River. The vessel anchored in Osborne Bay and guests really enjoyed relaxing on board the Sunseeker in the glorious July sunshine. Lunch was taken at The Coast Bar and Dining Room restaurant in Cowes and our guests reported that they had an excellent experience.
Luxury Sunseeker Motor Yacht Charter
Luxury Sunseeker motor yacht charter from Southampton to Cowes, Isle of Wight. 50th birthday Sunseeker charter at the Coast restaurant our guests were met by family and friends and birthday gifts were exchanged. The crew were invited to join the guests for lunch however unfortunately the crew were required to remain on board in order to move the vessel. Cowes was very busy due to the Round the Island Race. Our guests very generously provided a take away lunch from the Coast when they rejoined the waiting Sunseeker in time for departure to Southampton. A great day was had by all and we at Solent Marine Events were pleased to provide a fantastic Sunseeker Motor Yacht charter for a 50th birthday sunseeker experience to remember!