Holiday Luxury Motor Yacht UK
Sunseeker Boat Hire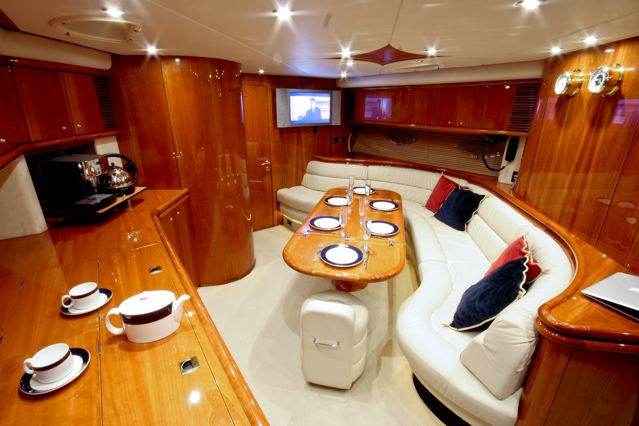 27th November 2015
Holiday Luxury Motor Yacht UK
Expert's rating: 9/10
One of the most exclusive – and exciting – family holidays available in the UK.  Hire a luxury Sunseeker motor yacht from Solent Marine Events base in Lymington, Hampshire on the edge of the New Forest. Each luxury yacht comes with a private mooring, huge deck space, and three good sized en suite bedrooms.  Cruising The Solent waterways in air conditioned luxury makes this holiday such a great opportunity destination. No cars, no airports, no security, no hassle.
Location: 10/10
It's no exaggeration to say that The New Forest is one of the most spectacular locations in the UK. Fantastic sea views over the Needles towards the Isle of Wight with historic Lymington and its fabulous marinas, wildlife and classic restaurants nestled quietly across the water from Newtown Creek – one of the UK's finest bird watching sanctuaries and National Trust properties.  Swimming, diving, fishing, sailing, jet  ski, and Jurassic coast beach walks are all on the doorstep.  A week's holiday on board a luxury motor yacht, guests happily enjoy freedom and quality time with their friends and families and not a car in sight.
Sunseeker Motor Yacht Style: 9/10
Sunseeker motor yachts are expensive and sophisticated offering 5 star accommodation on the water.Buy new and you could easily pay £2 million for a Sunseeker motor yacht and then spend the entire holiday worrying about moorings, crewing the vessel and perhaps damaging it – especially if you love the Sunseeker lifestyle but lack hands on maritime experience.Solent Marine Events make it easy and hire luxury Sunseeker motor yachts with professional and friendly crew, which combined provides an exciting, sophisticated and memorable holiday on the water in the UK.
Fast – furious  – safe – comfortable.Sunseeker motor yachts provide the perfect visage for a wonderful holiday.Each holiday is bespoke and the Solent Marine Events dedicated Captain and crew will provide expert advise on all the best places to visit in The Solent UK.
Facilities: 10/10
Sunseeker motor yacht interiors are sophisticated and luxurious – think three bedroom penthouse apartment on the water.  Solent Marine Events holiday packages are extensive, not only do their luxury Sunseeker motor yachts have super yacht style facilities they offer the opportunity to enjoy marina life and Sunseeker ownership privileges at a fraction of the cost.Fantastic scenery in the New Forest, one of the UK's largest national parks, beaches and blue waters, valet parking on arrival – a pleasant change these days.
Air conditioned throughout, deep pile carpets with sumptuous leather furnishings,the latest state of the art technology and entertainment systems lead via a sliding glass door to the spacious cockpit with barbecue, ice makers, teak decks, and an open-plan seating and dining area – your private Sunseeker terrace to the world beyond.
Value for money: 9/10
Sunseeker motor yacht holidays range from long weekends to weekly charter.  Prices are seasonal and vary with bespoke itineraries. Children under 10 go free £poa.
Dining
In The Solent there are numerous local restaurants, cafes and pubs. Try Saltys Restaurant UK for great seafood and the famous cod and chips or The George Hotel for alfresco dining by a private waterfront beach. The Hut Isle of Wight  – mainly accessible by sea is a very popular choice with families and celebrities alike.
Details
Solent Marine Events,Lymington Yacht Haven,Lymington,Hampshire, so413qd,UK
0845 689 9887