Power Boat Charter UK
Motor Boat RIB Charter Yacht Charter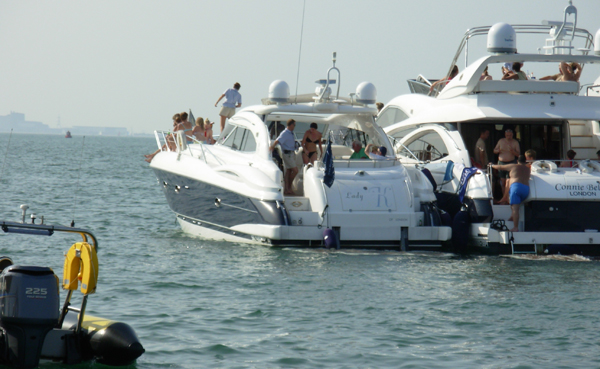 23rd November 2015
Solent Marine Events provide a range of powerboats, RIBs and motor yachts for power boat charter in The Solent UK.The Solent is a protected waterway lying between Portsmouth,Southampton,Lymington and Cowes, Isle of Wight.The Solent waters are calm which makes this the ideal cruising ground to hire a motor boat and enjoy a power boat charter UK.We provide a range of motor yachts which based in Lymington,Hampshire,UK within easy reach of London by road and rail.
Our motor yachts are available throughout the year for power boat charter UK and are normally chartered for corporate marine events and private yacht hire.Solent Marine Events plan every power boat charter UK and provide luxury motor yachts and RIBs with fully qualified crew.Power boat charter UK events range in size from 2 guests to larger corporate events with 180 guests and 18 motor boats sailing in The Solent.
Our motor boats can carry up to 12 passengers in comfort and our RIB's 10 passengers.For private hire a single yacht is usually sufficient and for larger private parties and corporate events we deploy several motor yachts and RIb's.A combination of luxury motor yachts provides sufficient capacity for all passengers and is great fun.During Cowes Week 2016 we host our corporate hospitality events at Ocean Village Marina,Southampton. which has excellent facilities ashore for dining and sufficient space in the marina for all our power boats, motor yachts and RIBs.
Solent Marine Events only provide marine events and we can provide 2 identical 60ft Sunseeker Predator motor yachts which carry up to 24 passengers between them.Fast and luxurious motor yachts they are in demand for corporate hospitality, private boat hire and also for special events such as glamour model photo shoots.Solent Marine Events offices are open 7 days a week and our staff would be pleased to discuss your requirements and answer any questions you may have.