Sunseeker Manhattan 55
Sunseeker Yacht Charters UK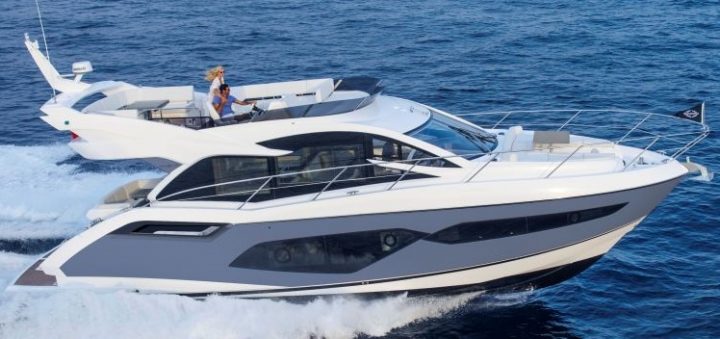 15th January 2020
Sunseeker Manhattan 55 Review
Sunseeker Manhattan 55 Review.  The new Sunseeker Manhattan 55 is a derivation of the former Sunseeker Manhattan 52 luxury flybridge cruising motor yacht. In the past 2 years Sunseeker International in Poole UK have designed, built and launched more than 130 luxury Sunseeker Manhattan 52's in Europe, the UK and Middle East.  A key feature of the new Sunseeker Manhattan 55 is its staggering interior space which provides a beautiful living environment that feels much more spacious than its overall dimensions would suggest. As found on all Sunseekers the quality of the interior and attention to detail is of an excellent standard with levels of craftmanship commensurate with the Sunseeker yard. The Sunseeker Manhattan 55 has an ergonomically designed cockpit which can be incorporated into the saloon at the touch of a button. The flybridge has an excellent driving position with good all-round visibility and seating for up to 12 guests in comfort. A beautiful carbon fibre table with gold Sunseeker inlays provides a useful focal point. The flybridge has the latest astro-navigation equipment, engine and bow thruster controls are well placed for intuitive driving. Below decks a repeat driving position is well set out forward and to starboard of the saloon.
Sunseeker Yacht Charters UK
Sunseeker Yacht Charters UK. The Sunseeker Manhattan 55 is an ideal charter vessel. With a comfortable interior, accommodation for 8 and a well-appointed galley. Powered by twin diesel engines with around 1600hp which propel this fine Sunseeker yacht to speeds of up to 31 knots, a cruising speed of 23 knots will easily cover over 200 miles which is consistent with other Sunseeker yachts of this approximate size.  In UK the Sunseeker Manhattan 55 is an ideal vessel for easy port access and berthing.
Solent Marine Events
Solent Marine Events are Sunseeker yacht charter specialists in the UK and operate from Lymington Hampshire and Southampton. Solent Marine Events manage all aspects of Sunseeker fractional charter ownership.