Surprise Birthday Party Sunseeker
Surpirse Birthday Party Sunseeker Motor Yacht Lymington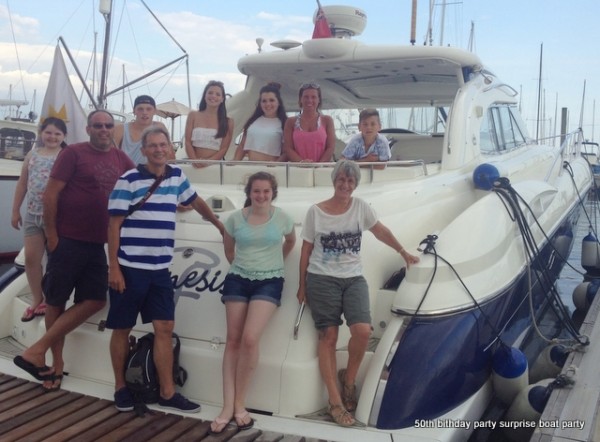 4th August 2014
Surprise Birthday Party Sunseeker
Surprise Birthday Party Sunseeker. Fantastic Mediterranean weather in Lymington, Hampshire was the perfect touch to a great Solent Cruise on a luxury Sunseeker Motor Yacht with Solent Marine Events.  This was a surprise 50th birthday party for our clients daughter.  Three generations of a family on board a luxury Sunseeker yacht from 70 to 7 years of age.
A beautiful morning solent cruise to The Needles and then tea at anchor in Alun Bay with the sun reflecting off the historic coloured sands of Alun Bay, Isle of Wight.
Lunch was taken at Salty's and as usual Nicky and Poppy provided excellent food in the bistro.  Birthday parties on our luxury Sunseeker Motor Yachts are increasingly popular and 50th birthday parties in particular.
Please contact Solent Marine Events to discuss your requirements for a fantatstic birthday party in The Solent, Lymington and the Isle of Wight.