The Hut Colwell Bay
Sunseeker Charters to The Hut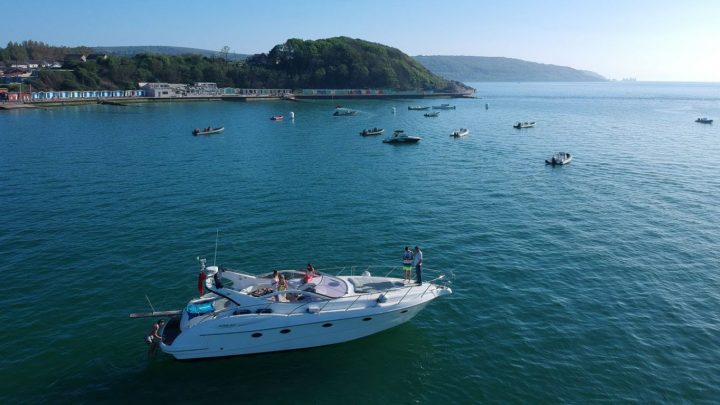 25th January 2020
The Hut Colwell Bay
The Hut Colwell Bay. One of our favorite restaurants in The Solent has recently applied to the Isle of Wight Council for planning permission to expand its premises adding additional space for customers. Hopefully permission will be granted, and The Hut can expand. Situated in Colwell Bay close to the entrance to The Solent The Hut benefits from fantastic views and in particular really impressive sunsets. The Hut has long been a favorite destination for Solent Marine Events Sunseeker Charters. The Hut was founded in 2012 and has steadily increased its customer base to the extend that it is booked up well in advance.
Sunseeker Charters to The Hut
Sunseeker charters to The Hut, Colwell Bay, Isle of Wight. Although The Hut provides land based transportation from Yarmouth to Colwell Bay there is no doubt that the most popular mode of transportation is by sea. Solent Marine Events provide luxury Sunseeker motor yachts for private charter to The Hut and for corporate events. Guests join the vessels in Lymington or Southampton and enjoy a wonderful Solent cruise prior to arrival at The Hut Colwell Bay. The Sunseeker yachts anchor in Colwell Bay in full few of The Hut restaurant and bar, and guests are transferred to waiting dinghies and RIBs to be transferred to the shore.
Colwell Bay Anchorage
Colwell Bay Anchorage. The anchorage at Colwell Bay is fairly confined and closed in on either side by rocky outlets. Closer to the shore the depth shoals off, gets shallower, and is only suitable for small craft and dinghies. Our large Sunseekers anchor to the North edge of the Bay and our professional Sunseeker crew man the vessels at all times. Guests simply need to contact the vessel when they are ready to depart. Solent Marine Events offer a flexible charter package especially designed for The Hut.
Solent Marine Events
Solent Marine Events. For more information on our Sunseeker charters to The Hut and our flexible charter package to The Hut see our website or contact the team.