Luxury Sunseeker Super Yachts
Monitoring Super Yachts Using Information Technology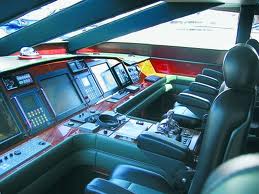 8th March 2012
Luxury Sunseeker Super Yachts
Luxury Sunseeker Super Yachts.  Information Technology plays an important role in today's  Super Yacht Industry.  Sunseeker are the latest Super Yacht Builder and Designer to adopt Programmable Logic Controllers (PLC).  PLC is effectively an Ethernet Network with at least  2 networked computers and monitors.  Attached to the on board Super Yacht network are a number of  sensors sometimes up to 200 which gather and store data from around the Super Yacht.  The collected data is subsequently presented on the bridge display and normally in the engine room.   The system can be used to manage and control heating, engine temperatures, alarm systems and bilge and ballast water levels.  Touch screen controls mean that systems can be operated and monitored at the same time.
The benefits of this system are considerable as the number of data sensors can be easily increased providing flexibility and systems no longer need to be hard wired from source all the way to the bridge.  This results in shorter wiring runs.
Solent Marine Events specialise in luxury Sunseeker Motor Yachts and have a number of  luxury yachts under management. Our marine staff are skilled in yacht electronics and Ethernet Network Systems.  To generate revenue from your Luxury Motor Yacht on Corporate Hospitality Events and Private Yacht Charters contact Solent Marine Events  for details of the Solent Marine Events Yacht Management Programme.
Solent Marine Events - Sunseeker Yacht Management Servicess
Solent Marine Events are a leading corporate events management and hospitality company. We specialise in Sunseeker Motor Yachts for company days and private charters and also supply sailing yachts and RIBS for corporate days. We provide a fully managed yacht management service and have a professional and experienced yacht management team.
Contact Solent Marine Events on 0845 689 9887 or Request a Quote today.