Sunseeker Hybrid Propulsion Motor Yachts
Sunseeker Electric Motor Yachts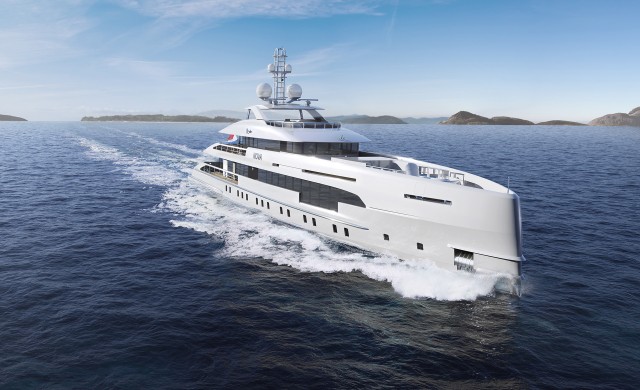 20th January 2020
Sunseeker Hybrid Propulsion Motor Yachts
Sunseeker Hybrid Propulsion Motor Yachts is an interesting concept that we have been considering recently at Solent Marine Events. Imagine a beautiful Sunseeker Motor Yacht underway at a cruising speed of 12 knots completely powered by electric energy. Softly gliding through azure waters in complete silence. Listen to the sea as it ripples against the hull and take in the beauty of nature at its best on board a luxury Sunseeker motor yacht. Guests and crew alike could benefit from the lack of engine noise and perhaps the small amount of vibration that occurs in every power driven vessel, regardless of size and build quality.
Sunseeker Electric Motor Yachts
Sunseeker Electric Motor Yachts could this be a future strategic direction for the internationally renowned and acclaimed British boat builder based in Poole, UK. Recently Volvo Penta announced its new hybrid propulsion system. How does it work? Imagine a traditional engine room configuration with 2 diesel engines mounted in parallel attached via prop shafts to IPS drives. On a hybrid vessel a further 2 electric motors are mounted in the engine room one beside each engine. Each electric motor and engine are connected to the IPS drive through a common clutch system. The clutch can be operated and controlled by the Captain effectively giving the choice of 3 different propulsion modes mode 1 – all electric propulsion, mode 2 – traditional diesel propulsion and mode 3 – traditional diesel and electric propulsion. The electric motors are powered by LI-ion battery packs which can be charged by generator, by the diesel engines or by an external power source or shore connection.
Electric Hybrid Propulsion Benefits
Electric Hybrid propulsion benefits are obvious. It is possible that certain waterways and ports especially in Special Areas, with extremely low emission levels, may prohibit access from traditional diesel propelled vessels or they may introduce an emission charge similar to London's Low Emission Zone charge. On board a luxury Sunseeker motor yacht propelled by hybrid energy the quality of life is enhanced due to noise reduction and the Captain can choose when to engage electric propulsion and when to use diesel. The control systems are the same since the hybrid system is interlinked with the diesel system.
Solent Marine Events
Solent Marine Events operate luxury Sunseeker motor yachts in Lymington and Southampton, Hampshire UK. Our Sunseeker vessels are available for corporate charter and private parties. In addition Solent Marine Events specialize in the provision of services to Sunseeker owners and operators in the UK and worldwide.