Sunseeker International Dalian Wanda
£50 Million New Product Development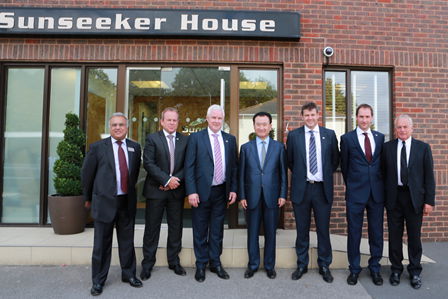 23rd December 2019
Sunseeker International Dalian Wanda
Sunseeker International Dalian Wanda. At the recent Cannes Yachting Festival Dalian Wanda the Shanghai based majority shareholder in Sunseeker International Poole announced a £50 million investment for new product development between 2019 and 2024. This is a major commitment from a Chinese investor in the UK maritime sector. Over the next 3 year period it is anticipated that Sunseeker will spend between £15 million  and £18 million per annum on the bespoke design and launch of completely new Sunseeker Yacht models. This investment initiative  will see the current model line-up expand from 11 to 22 Sunseeker vessels.
Sunseeker Yacht New Models
Sunseeker Yacht New Models. A series of new high performance Sunseeker yachts are planned the brand new Superhawk 52ft and the new triple engine Sunseeker Superhawk 65ft in 2 years' time and the new kitty hawk 39ft early 2020. Our favourite the all new Sunseeker Predator 74 was launched last year and the new Predator 86 sport is planned for 2021. Joined by the Sunseeker Manhattan Yacht 55, Sunseeker 133 Superyacht and the all new Sunseeker 161 Superyacht a year later.
Solent Marine Events
Solent Marine Events operate Sunseeker charter yachts which are available in The Solent UK.