Sunseeker Predator 74 Review
Luxury High Performance Motor Yachts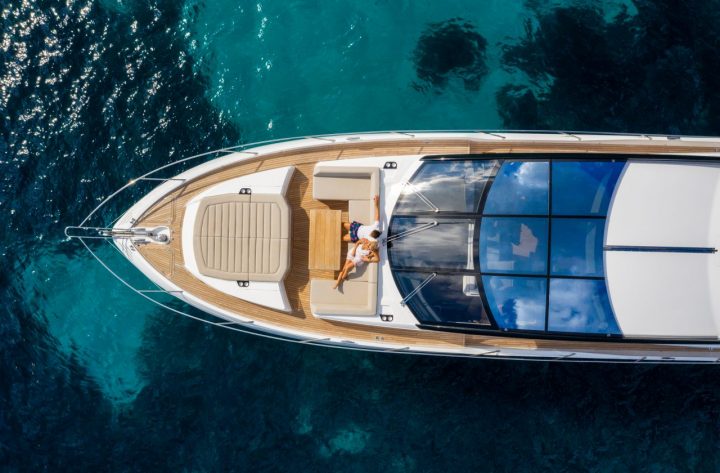 23rd December 2019
Sunseeker Predator 74 Review
Sunseeker Predator 74 Review. The all new Sunseeker Predator 74 is a sleek creature which projects an air of superlative velocity and style. A vessel of superb performance and manoeuvrability powered by the bullet proof MTU engines which propel the Sunseeker Predator 74 to speeds in excess of 40 knots. Accommodation is fantastic, exquisite and reminds us at Solent Marine Events of the luxury offered at our favourite hotel, the Burj Al Arab Jumeirah.  With expansive deck areas, seating facilities and sun loungers wating to be used and enjoyed in the hot Mediterranean sun. The Sunseeker 74 is a high-tech vessel both in terms of functional navigational equipment including the latest quadruple resonance infra GPS balanced satellite plotter and its advanced audio-visual entertainment facilities. The master stateroom is of outstanding quality and the bed is probably the most comfortable we have ever slept on. Guests and crew alike will really enjoy this fabulous Sunseeker Predator 74.
Luxury High Performance Motor Yachts
Luxury High Performance Motor Yachts. Breath-taking performance and agile handling is the signature dish on this great Sunseeker Yacht, the exterior is sleek and the huge glass windows and side lights allow uninterrupted views of the horizon flooding the interior with natural light. The massive glass sunroof opens at the touch of a button allowing the sun and stars to take part in this Sunseeker Predator 74 dream adventure.
Solent Marine Events
Solent Marine Events are based in The Solent UK and operate out of Lymington and Southampton. We provide Sunseeker Yacht charters and Sunseeker hire for corporate events and private boat parties. All our clients are important to us and our boat charters have ranged from a single vessel to larger corporate events with 180 people out on the water.  We are taking bookings for 2020 now and please do get in touch for the latest 2020 price list including Cowes Week 2020.